Erasmus Plus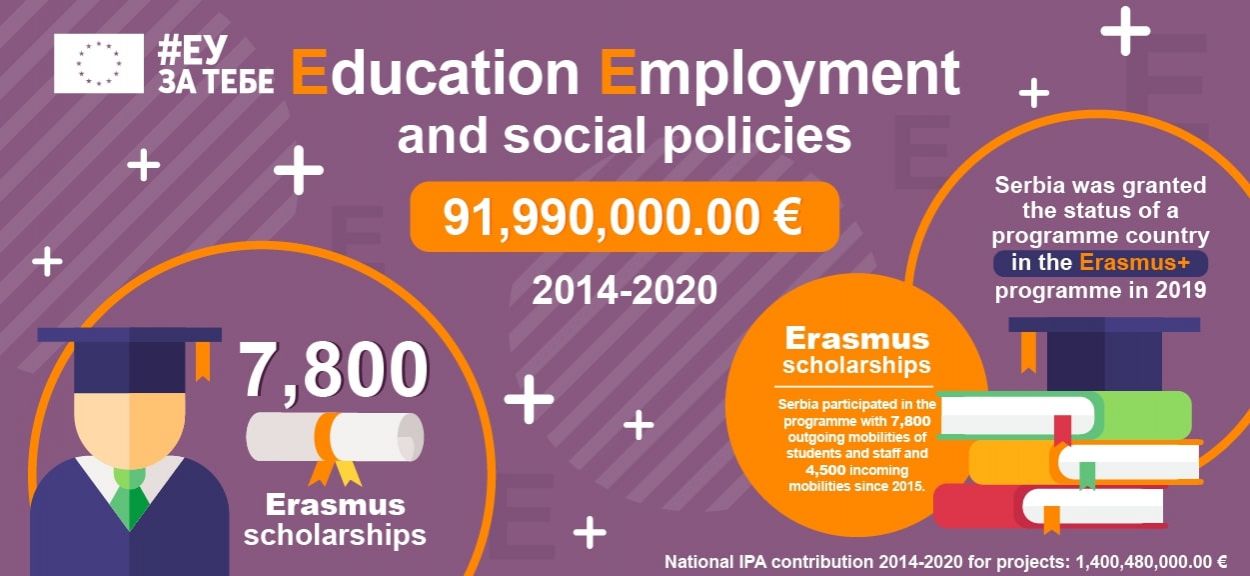 The EU's Erasmus programme is celebrating its 30 years. For three decades, this flagship programme for education and training, youth and sport has given 9 million people - in particular young people - opportunities to gain new experiences and broaden their horizons by going abroad. The current Erasmus+ programme, running from 2021 to 2027, has a budget of €26 billion and provides opportunities for over 4 million people to study, train, gain work experience and volunteer abroad. Serbia has become a full member of the Erasmus + programme from 2019 call.

What does it support? Erasmus+ provides grants for activities in the fields of education, training, youth and sport. Erasmus+ also supports the Eurydice network, which describes education systems in Europe and offers comparative analysis of national systems and policies from early childhood to adult education.
Who can apply? The programme supports organisations, institutions, bodies or groups. These organisations, in turn support a wide range of individuals, including: students, trainees, apprentices, pupils, adult learners, young people, volunteers, youth workers, teachers, professors, trainers, coaches, athletes, and professionals of organisations active in the relevant fields. Individuals can spend a mobility or volunteering period abroad and to receive linguistic training, organisations to collaborate in project partnerships in the fields of academic and vocational training, schools, adult learning and European sport events. Erasmus+ also supports teaching, research, networking and policy debate on EU topics.
What is the new Erasmus+ programme bringing? The Erasmus+ programme seeks to enable the participation of even more participants and a wider range of organizations in the period 2021-2027. In this regard, the new programme emphasizes inclusiveness, green initiatives and digitalization as key and most important priorities that support through financial mechanisms, then strengthening civic values, dialogue of cultures, tolerance and understanding of social, cultural and historical heritage. The general goal of the Program is to support the educational, professional and personal development of people in the field of education, training, youth and sports through lifelong learning.
Terms of financing check here
Serbia Unit: https://erasmusplus.rs/erasmusplus/what-is-erasmus/ https://tempus.ac.rs/
Foundation Tempus Info Centre – Terazije 39, (I floor) 11000 Belgrade
Serbia Foundation Tempus office – Ruža Jovanović 27a (entry from Žabljačka street), Belgrade, office@tempus.ac.rs
Read more here
Open Calls
Publishing Date
End Date
Name and Description
May 12, 2020
July 28, 2020

EXPIRED

Erasmus+ "European Youth Together 2020"

The general objective: to create networks promoting regional partnerships, to be run in close cooperation with young people from across Europe (Erasmus+ programme countries).

Specific objective: to support initiatives from at least five youth organisations from five different eligible Erasmus+ programme countries to share their ideas about the EU, encourage wider civic participation and help foster a sense of European citizenship.

Indicative activities: The networks would organise exchanges, promote trainings (for instance for youth leaders), discussions and debates on youth connection to the EU, its values and democratic foundations, and allow young people themselves to set up joint projects, all of which could be done through both physical and online activities. It targets youth NGOs, public bodies and informal groups of young people, especially those active at grassroots level, which would propose large-scale mobility activities for young people and have the capacity to mobilise young people in partnerships covering different countries and regions.

Reference: EACEA/10/2020 Maximum indicative amount per project: EUR 500,000

To apply for this Call for Proposals, please use this link


April 8, 2020
June 22, 2020

EXPIRED

Second pilot VET mobility scheme for the Western Balkans

Programs: Erasmus Plus

Sectors: Education

For: Small and medium enterprise (SME), Civil society, Researcher or educational institution

The general objective: to contribute to the improvement and modernisation of VET systems in Albania, Bosnia and Herzegovina, Montenegro, and Kosovo*, as well as reinforcing the links between VET and the labour market.

Specific objective: to enhance the capacity of VET providers in the four mentioned partners by promoting mobility activities aimed at improving the skills and competences of VET teachers, learners and managers and the occupational prospects of young students.

Indicative activities: Mobility arrangements for schools and teaching staff; exchange of best practices; dissemination at national and regional level; creation and institution of networks and partnerships for exchanges.

Reference: EAC/S54/2019 Maximum indicative amount per project: EUR 1,000,000

To apply for this Call for Proposals, please use this link


February 18, 2020
May 26, 2020

EXPIRED

For accreditation Erasmus Charter for Higher Education 2021-2027

This Call aims at accrediting higher education institutions which have operational capacity to take part in next Programme's activities. Holding an Erasmus Charter for Higher Education is a pre-requisite for all Higher Education Institutions willing to participate in the learning mobility of individuals and/or cooperation for innovation and good practices in the next Programme (2021- 2027).

Reference: EACEA/03/2020

For the Submission of this procedure, please use this link


December 6, 2019
May 5, 2020

EXPIRED

European Policy Experimentations in the field of Education and Training led by high-level public authorities

Programs: Erasmus Plus

Sectors: Education

For: Small and medium enterprise (SME), Civil society, Young people, Researcher or educational institution

Within Key Action 3: Support for policy reform - Initiatives for policy innovation, general objective is: Promote trans-national cooperation and mutual learning at the highest institutional level in order to foster innovation in the education and training fields. Applicants are free to consider any specific aspect within priority themes: Digital education and competences; Improving teachers' careers; Funding mechanisms for upskilling and reskilling; Validation of non-formal and informal learning.

Reference: EACEA/38/2019 Maximum indicative amount per project: EUR 2,000,000.

To apply for this Call for Proposals, please use this link