About Sector
Over the past two decades the EU equipped hospitals, laboratories, institutes of public health and blood transfusion centres and provided a total of 284 fully equipped ambulances for health centres around Serbia, 122 of which were equipped with ventilators, crucial in the fight against COVID 19.
In general, the EU supported Serbia's entire healthcare network: through the European Investment Bank – the EU Bank – funds in the amount of 250 million EUR were used for the reconstruction and construction of 20 large hospitals across Serbia, including the "Torlak" Institute, as well as the four University Clinical Centres in Belgrade, Nis, Novi Sad and Kragujevac, all of them instrumental in the fight against coronavirus.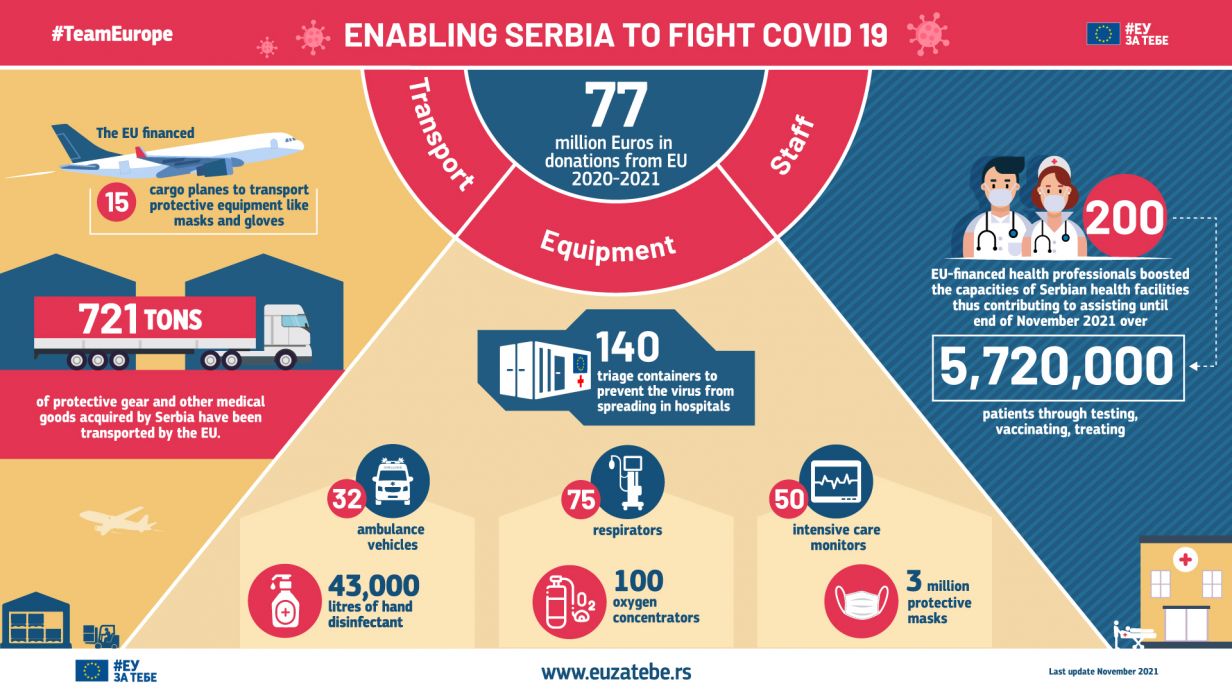 In 2019 alone, the construction of a new building, renovation, and expansion of Clinical Centre in Niš has been completed. This included work on existing facilities, new blocks, courtyards and parking spaces. A total of 45,000 m2 were reconstructed, and this significant regional tertiary health care centre received 600 hospital beds, 38 of which are reserved for intensive care and 42 for semi- intensive care. The EIB financed the construction with 34 million EUR, while another 16 million EUR were allocated from the budget of the Republic of Serbia for the procurement of medical equipment.
Thanks to EU's assistance, millions of Serbian citizens have better and more modern medical care in other towns, too.
The EU made possible the use of new modern surgical operating rooms, emergency centres, a large number of hospital beds, new clinics and hospital kitchens as well as hygiene equipment purchased for centres in Kikinda, Pancevo, Sombor, Smederevo, Sremska Mitrovica, Zajecar, Cacak, Krusevac, Pirot and Belgrade. Smaller communities also benefitted from EU assistance in developing their health systems, for example: With a donation of more than 4.6 million EUR, medical centres in nine municipalities received equipment for improved medical care, particularly for the most sensitive groups - women, children, people with disabilities, etc.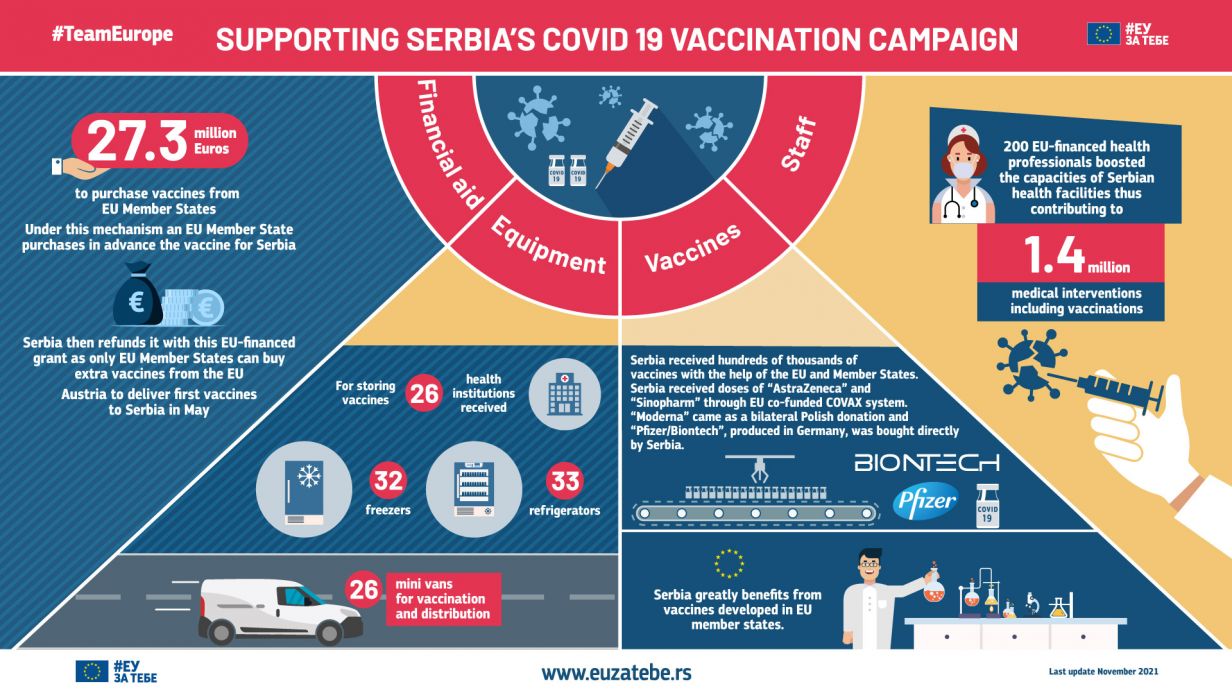 The EU also supports the construction of a Haemodialysis Centre in Lebane which will, aside from this municipality, cater to citizens of Medveđa and Bojnik as well. Support is being provided for the development of two main designs for the renovation of the Prijepolje Hospital and the Blace Health Centre, and medical equipment is provided for the Health Centres in Aleksinac, Babušnica, Bela Palanka, Brus, Doljevac, Gadžin Han, Merošina, Svrljig and the Medical Centre of Knjaževac. The city of Novi Pazar now has a new Emergency Medical Centre, for which the EU donated 680,000 EUR in 2018. More than 120,000 people in Novi Pazar, and many more in this area, benefited from this investment. Ivanjica also got a new X-ray machine that cost more than 66,000 EUR. Improved technical resources of the institution enable the staff to carry out these check-ups in a safer environment, while reducing exposure to radiation for patients. A part of EU's investments in the Serbian health sector also includes 2.8 million EUR for the finalisation of the Vranje Hospital construction.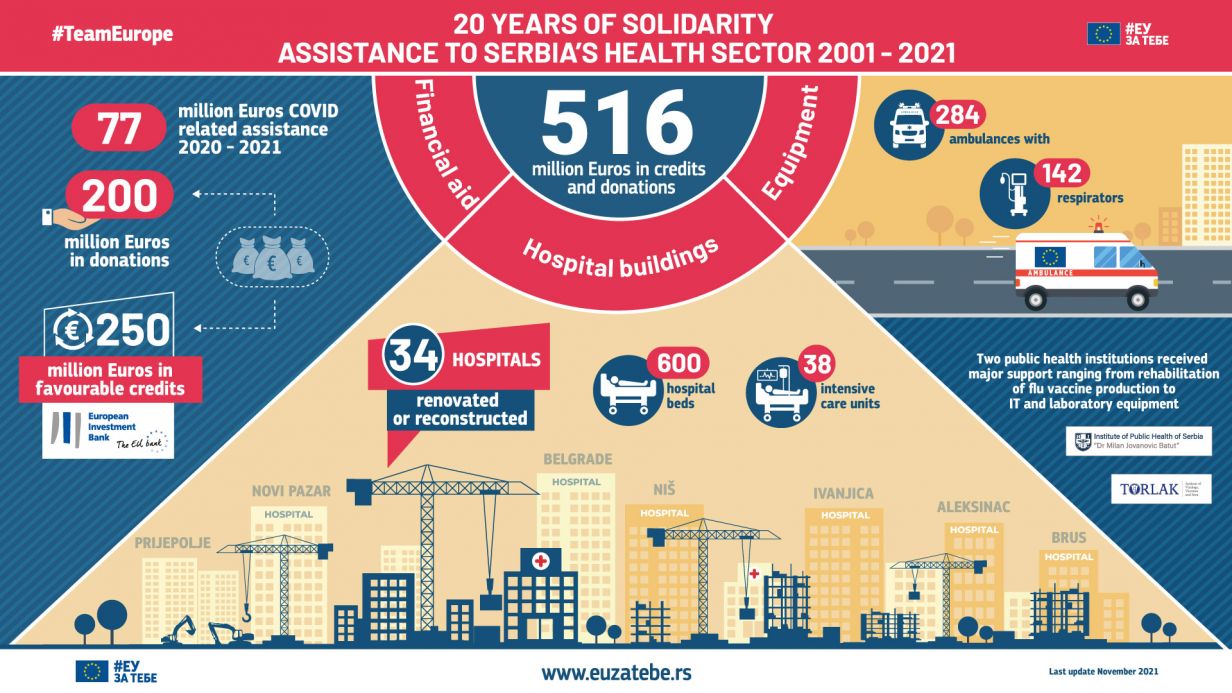 The EU helped establish a National Cancer Screening Programme in the Republic of Serbia, with a donation of over 6.6 million EUR for equipment and training of all employees to perform mammography, colonoscopy, cytological screening for cervical cancer and other services. Purchasing supplies of essential medicines and other medical supplies for public pharmacies and health institutions in Serbia should also be mentioned, considering the value of the EU's donation of over 43 million EUR. The EU provided a much-needed support for Serbian laboratories, by donating modern equipment and supplies in the total value of 4.9 million EUR. One of many examples of the substantial, long-term European support for the Serbian healthcare system is this: Serbian researchers are now able to test more samples for SARS-CoV2 thanks to the network referential laboratories equipped by the European Union.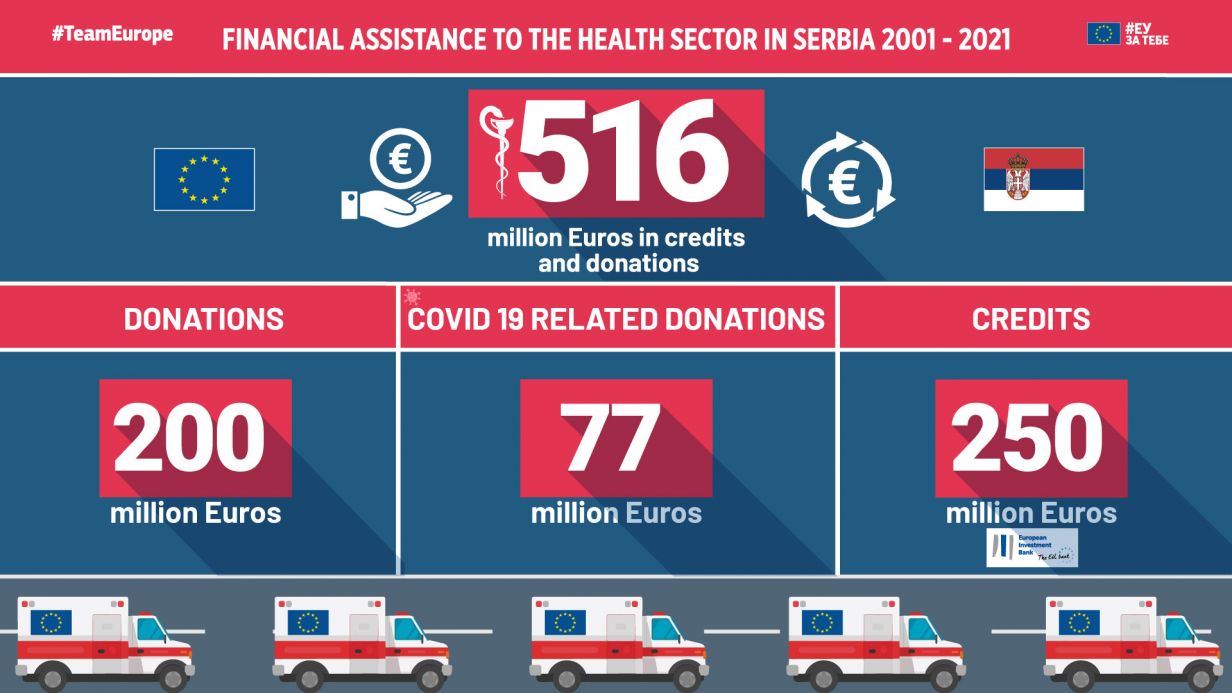 The National Reference Laboratory in Batajnica had previously received 7.5 million EUR in EU donations to renovate the complex, equip it with high-tech devices and robots, and provision of technical assistance. The laboratory tested around 85,000 samples for COVID-19 in the period between late March and the end of June 2020.


Emergency EU assistance to Serbia in the fight against COVID-19:
Thanks to European Union assistance, the transport of emergency medical equipment and materials was enabled: the European Union financed 15 cargo flights with over EUR7 million, delivering more than 720 tons of goods, both EU donations and the equipment purchased by the Serbian government.
Dozens of intensive care monitors, 140 fully equipped triage containers, respirators, non-contact thermometers, protective masks, gloves, suits, apparatus and reagents for PCR tests on SARS-CoV2, as well as 32 new ambulances were purchased. In response to the vaccination against coronavirus, the European Union has helped procure freezers and storage refrigerators and 26 vehicles for the transport of vaccines to people across the country. Perhaps most importantly, millions of doses of vaccines against coronavirus will be donated by EU Member States as part of an initiative to support the countries of the Western Balkans.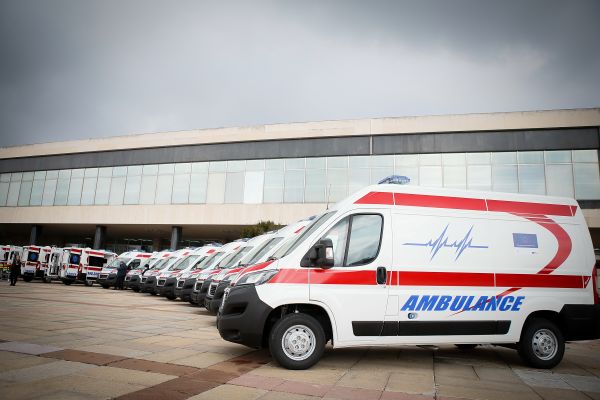 Also, although Serbia is an EU membership candidate, its citizens largely benefit from the same opportunities as citizens of the European Union, bearing in mind that Serbia is part of the EU's Joint Treaty on the Procurement of Healthcare Equipment.
Serbia is also a part of the Civil Protection Mechanism of the European Union, and another European instrument has been made available - rescEU. The availability of these instruments to the citizens of Serbia has provided significant assistance in crisis situations.
Read more HERE.